Hey there,
Social media nowadays playing a very great part in human life. You will rarely find a young generation who do not use social media. In these social media, Instagram is also present. We all know how Instagram works.
If u want to get famous in Instagram, you need to have many followers. But followers gaining is not much easy. You can promote your account by 'promote' option on Instagram. But it will cost you money. And everyone can't afford money for these things. Most of the parents also don't allow their children to use money for these things.
But still you can gain followers in Instagram and u need not pay for it. Here is an app which can get u followers for free.
The name of the app is Neutrino+
Get the app Followers gaining app (neutrino+)
How to gain followers by this app??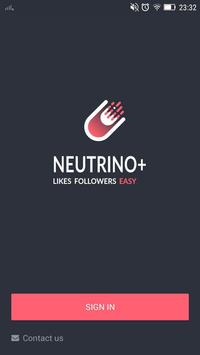 Step 2: Collect diamonds which you will get from daily reward, big button, following other neutrino+ users, etc. You can get diamonds by redeeming energy which u get by using the app and following others.
Step 3: Use diamonds to get followers. There is a clear option for this.
Note: You can transfer your diamonds (crystals) to your friends and they can also transfer to you. But there will be a small percentage decrease while transferring.
So Thank you for reading. Hope you get many more followers on Instagram